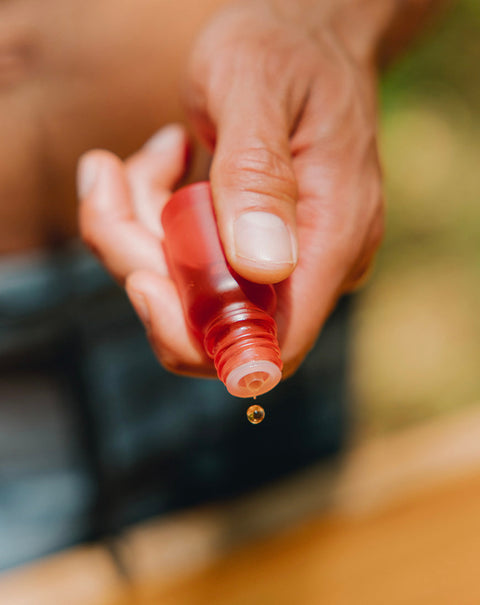 Harmonizing with my Pitta dosha using Pitta oil. The calming aroma is such a refreshing journey back to my cool, calm core.
- Kat
Calming, cooling, and grounding.
Add three to five drops of this curated combination of natural essential oils intended to balance the fiery Pitta dosha when feeling temperamental or over-stimulated.
Starting with a nourishing and hydrating base of coconut, jojoba, and sunflower oil, followed by the joyful essence of lemon and the soothing aroma of lavender. A refreshing coolness takes over with the addition of wintergreen, peppermint, and hemlock spruce, then grounded by the earthy notes of sandalwood and calamus.
Allow this harmonizing scent to diffuse the emotional and physical buzz and take you into a state of balance, coolness, and serenity.
10 ml | 0.3fl oz Ingredients: Cocos nucifera (Coconut/Noix de coco), Helianthus annuus (Sunflower/Tournesol), Acorus calamus (Calamus/Acore roseau), Citrus limonum (Lemon/Citron jaune), Lavandula angustifolia (Lavender/Lavande vraie), Gaultheria fragrantissima (Wintergreen/Gaulthérie odorante), Tsuga canadensis (Hemlock spruce/Pruche), Amyris balsamifera (Sandalwood amyris/Santal amyris), Mentha x piperita (Peppermint/Menthe poivrée)
Usage: put 20 to 30 drops in a diffuser (about a drop of per minute).