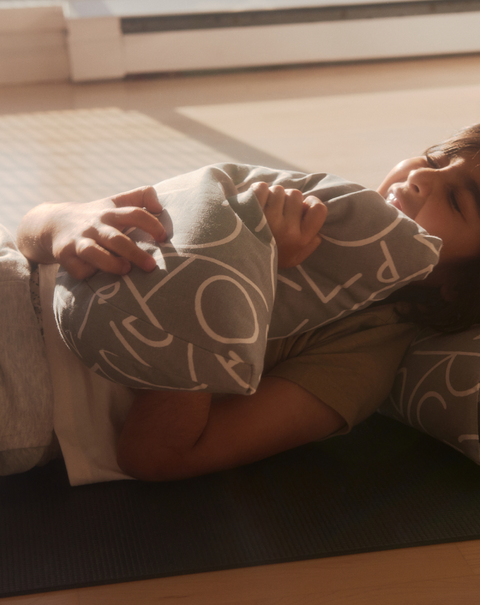 Perfect gift for my little yogi
- Delia
Little hips need a little love too.
Sitting for long periods is no easy feat for any new meditator. Set your mini-meditator up for success with this kiddo-sized meditation cushion. The malleable wheatberry fill will lift their hips off the ground, making for a more comfortable seated position for their spine and knees.
The playful 100% cotton cover, featuring a fun alphabet print, is removable and washable. Constructed just outside Vancouver, Canada, it is designed to withstand the adventures of your young one. We have also added an easy-carry handle, allowing your child to effortlessly move the cushion between home, school, or anywhere their meditation activities take place. With over 35 years of experience in creating cushions, we are confident in the quality and longevity of what we deliver to you.
Create a comfortable space for pint-sized mindfulness.
100% Cotton, Filling: 100% Buckwheat hulls
Made in b, halfmoon's in-house manufacturing facility in Vancouver, BC.
2" x 10" x 16" Colour may vary
Remove cover from the cushion. Machine wash cover in cold water on the delicate cycle Hang to dry Do not bleach Lint Removal Tip: wipe bolster with a latex-gloved hand or a lint roller