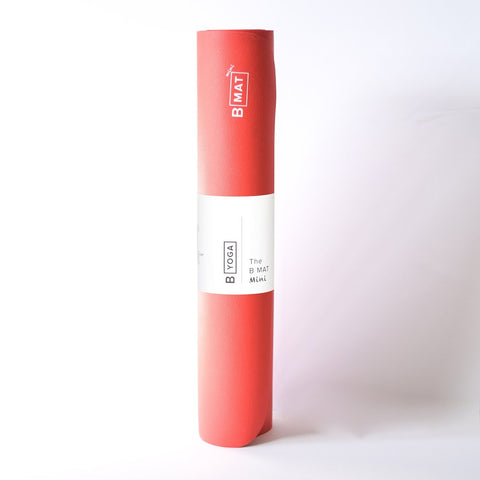 Our original B MAT—vintage look, the same unprecedented grip and performance.

The B MAT Mini supports your budding yogi from their puppy pose, to their tall standing tree pose. Part of our specialized yoga mat collection, the B MAT Mini offers all the benefits you know and love in a B MAT but now tailored to the mini-yogi. 
FEATURES
Superior grip

Durable

Oeko-Tex certified: free of harmful chemicals and safe for human use.

Eco-friendly

Anti-microbial properties

Made of natural, biodegradable materials that can be recycled
SPECS
55" x 23" 

2.5 lbs

4mm thickness

100% rubber

Made in Spain
PRODUCT CARE 
Clean the mat gently with water and mild detergent and rinse clean

Wipe dry, lay flat and allow to air dry out of direct sunlight with the logo side facing up 

Avoid harsh chemicals or abrasives as this can compromise the integrity of the mat surface

Allow the mat to dry completely before use

Pre or post practice, roll your mat with the logo side facing out as this will help maintain your mat's grippiness

Avoid heavy sliding or movements that cause friction, as this may lead to the surface breaking down quicker


For ages 4 and older.